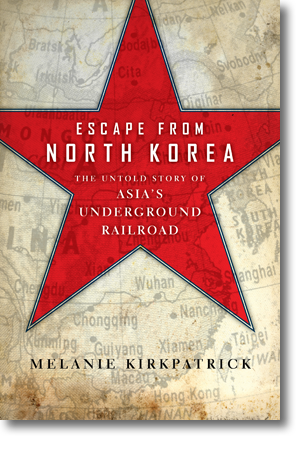 "Superb reporting and storytelling about a modern-day underground railroad make Melanie Kirkpatrick's Escape from North Korea WORLD's Book of the Year.
— Marvin Olasky, WORLD Magazine
"…the journalist we trust the most on this beat, Melanie Kirkpatrick, a longtime Asia hand and a veteran of the Wall Street Journal."
— Editorial, The New York Sun
"Where the book excels is in detailing the experiences of women sold as brides, stateless children from unofficial marriages, men sent as slave labour to log in the forests of Siberia, and the individuals determined to help fugitives from North Korea make their way to freedom."
— Bangkok Post
"Fascinating."
— Greta Van Susteren
"That… vicious, hateful crimes against humanity still continue daily under the name of Marxism-Leninism is proven in Melanie Kirkpatrick's extraordinary book Escape from North Korea: The Untold Story of Asia's Underground Railroad, which documents the horrors of living in that country and what people will risk to get away from it. Although it might seem the most depressing book for this season of good cheer, in fact it is also tremendously uplifting, and bears witness to the nobility of the human soul under even the most crushing circumstances."
— Andrew Roberts, The American Spectator
"Ms. Kirkpatrick….has painstakingly etched a comprehensive picture of the modern equivalent of the US Civil War's abolitionists' volunteer network, the Underground Railroad, to guide slaves in the South to safe havens in the Northern states."
— Helping Hands Korea, Seoul
"…journalist Melanie Kirkpatrick documents the desperate, dangerous flight of North Koreans toward an uncertain new life."
"For the vast majority of women who want to leave North Korea, human trafficking is the only ticket to freedom."
— Jennifer Marsico of the American Enterprise Institute,
blogging for the Independent Women's Forum
"…[a] powerful new book"
— Andrew Natsios, U.S. News & World Report
"Kirkpatrick does the kind of work that many human-rights activists don't: reporting on a closed society."
— David Keyes, Tablet magazine
"The only evidence of change policymakers should deem credible is whether the Kim regime is respecting the basic human rights of North Koreans."
— James Glassman and Amanda Schnetzer, Foreign Policy
"A chilling glimpse into North Korea's veiled society."
— Christopher Walsh, Bush Center Blog
"Compelling… Melanie Kirkpatrick's book provides a call for action."
— Scott Snyder, The Atlantic
"You can read more about what life is like in North Korea in Melanie Kirkpatrick's fine new book."
— Max Boot, Commentary magazine
"A gripping account of the trials faced by those fleeing the world's most violent, secretive, and oppressive dictatorship."
"Both the North Koreans fleeing totalitarianism and those who help them show astonishing courage. The later are what one might call extreme philanthropists — those who are willing to commit not only time and money but to risk their freedom and their family's welfare."
— Jacqueline Pfeffer Merrill, Philanthropy Daily
"Something greater than material benefits moves the brave North Koreans, as Kirkpatrick lays out in this compelling volume."
— Amity Shlaes, Forbes
"The book makes remarkable reading in 2012, 20 years after the fall of the Iron Curtain in Europe and the breakup of the Soviet Union. It reads like an account of life in Nazi-occupied Europe, when Jews and other opponents of Hitler's regime attempted to escape. One word out of place, a friend who turns informer or a bribe that is insufficient – and the person is arrested and sent to a camp and probable death."
— Mark O'Neill, Asia Sentinel
"The book is as much a story about the infrastructure of the railway — the conductors and their strategies — as it is about the escapees themselves. It thus invites us to ponder not only the refugees, but the odd collection of individuals that devote themselves, typically with great passion, to this difficult and often risky business."
— Stephan Haggard, in his blog, North Korea: Witness to Transformation
"Here is a rare book that puts human faces on the numbers, a lamentation over policies and duplicities that have haunted a people terribly divided."
"An important and stirring account of the refugees from the North and their helpers… Throughout the book, Ms. Kirkpatrick challenges Washington, Seoul and the rest of the international community to place human rights in general, and refugees in particular, front and center in their dealings with Pyongyang."
— Sue Mi Terry, The Wall Street Journal
"Escape from North Korea may someday be compared to Harriet Beecher Stowe's Uncle Tom's Cabin for blowing the lid off the DPRK gulag. In the meantime, anyone who wants to be truly knowledgeable about Korea or China has an obligation to read Kirkpatrick's book. And if, after reading it, anyone disagrees with her conclusions, shame on him."
— John R. Bolton, National Review
"The most tragic story in the book concerns the remaining South Korean POWs imprisoned by North Korea since the 1950s. They are elderly, too frail to endure an escape attempt."
— Brigitte Frase, The (Minneapolis) Star Tribune
"North Korea is a 'hellhole,' says former Wall Street Journal editor and Asia expert Melanie Kirkpatrick '73: a police state rife with suffering and starvation, cut off from the outside world. No wonder thousands of its citizens have risked their lives to flee, as she grippingly describes in Escape from North Korea…"
— W. Barksdale Maynard, Princeton Alumni Weekly
"This book shows [North Koreans'] harsh but brave way to freedom and also tells of the potential of the North Korean people."
— Forbes
"Whether or not the reader shares Melanie Kirkpatrick's optimism, she has written a compelling case study that is as painful to read as it is hard to put down."
— Spengler, aka David P. Goldman, Asia Times Online
"Kirkpatrick's refreshingly frank account is a story of Christian zeal in the cause of human freedom: a gospel message of love, hope, sacrifice, and rescue."
— Joseph Loconte, The Weekly Standard
(Subscription required)
"…a rare book that puts human faces on the numbers, a lamentation over policies and duplicities that have haunted a people terribly divided."
— Robert Joustra, Christianity Today
"Tales of escape from the brutal Kim dynasty moved former Wall Street Journal staffer Kirkpatrick to create this vivid account of North Koreans who dare to make the leap for liberty."
"With the perfect, hypnotic flow of a consummate journalist, Melanie Kirkpatrick has created an encyclopedic, magnificently researched and reported portrait of the dramatic resistance to the slow-motion holocaust that is taking place in North Korea as you read this. Her account is as captivating as a thriller, but unlike a thriller it is morally compelling. What elevates it to the ranks of the finest books is the skill of its author and the selfless urgency of her appeal. Many a prize has been awarded to books not half as deserving."
— Mark Helprin, author of In Sunlight and in Shadow, A Soldier of the Great War, and other books.
"Melanie Kirkpatrick is one of the finest newspaperwomen of her generation, and she has, in Escape from North Korea, brought in an astonishing scoop — a story that illuminates how across the centuries and oceans America's own abolitionists are inspiring a new underground railroad. Her story reminds us all of why communist regimes so fear religion."
— Seth Lipsky, editor of The New York Sun
"Escape from North Korea should be assigned reading for anyone — policymaker, academic, or journalist alike — who think they know anything about the Kim family dictatorship. Melanie Kirkpatrick shows how "the new Underground Railroad" is not only providing an escape route from the prison camp that is North Korea, but something even more important as well. She shows how that escape route, aided and expanded, can bring down North Korea's despotic regime and free its entire people. Kirkpatrick combines exhaustive reporting with insightful analysis in a powerful and compelling tale of repression and freedom."
— John Bolton, former U.S. ambassador to the United Nations
"Escape from North Korea is a troubling and inspiring story of both man's inhumanity to his fellow man and a testimony to the indomitable human spirit in the midst of horrific torture and privation. Melanie Kirkpatrick has done humanity a great service by telling this compelling story."
— Richard Land, President, The Ethics & Religious Liberty Commission
"A riveting, meticulously researched account of the harrowing journey North Koreans must take to reach freedom. Kirkpatrick describes in detail the secret network of safe houses, transit routes and brokers that have emerged in China and other countries to enable North Koreans to escape. Similar to the Underground Railroad in the United States that liberated slaves, the network achieves inspiring successes and tragic failures. The book will interest both the general public and serve as a powerful tool for policymakers, academics and advocates interested in lending support to one of the world's most persecuted people."
— Roberta Cohen,Co-Chair, Committee for Human Rights in North Korea
"Kirkpatrick puts the spotlight on one of the greatest tragedies of the postwar world: the transformation of an entire nation into a gulag. But despite the many horrors of North Korea, courage and the human spirit endure. Kirkpatrick's timely book should convince Koreans and Americans of the immediate need to end North Korea's totalitarian dictatorship and unify the peninsula under a free and democratic government."
— John Yoo, Professor, University of California-Berkeley's Boalt Hall Law School
"Melanie Kirkpatrick beautifully retells the harrowing accounts of many fugitives who ran for their lives, risked everything…and now feel free. She explains to an American public that this is a new Asian underground railroad, just like the one that in the first half of the 19th century helped so many slaves escape their chains in the American South and reach Canada."
— Francesco Sisci, Asia Times Online
"A word here about Melanie: She was my colleague at the Wall Street Journal, long an Asia hand and one who carried with her to New York (actually back to New York, as she was raised in Buffalo) an extraordinary empathy for the plight of North Koreans in particular. Now affiliated with the Hudson Institute, she has not let this cause rest, even as the attention of so many of us drifts away between the periodic missile tests, famines and state spectacles."
— Tim Ferguson, Forbes
WABC Radio podcast with Gordon Chang, interviewing John Bolton about Escape from North Korea (starts at 10:10)